Penn State emergency medical services get a dose of IT
Student EMTs use technology to help keep fans safe at Beaver Stadium
By Lauren Ingram
news.psu.edu - September 18, 2015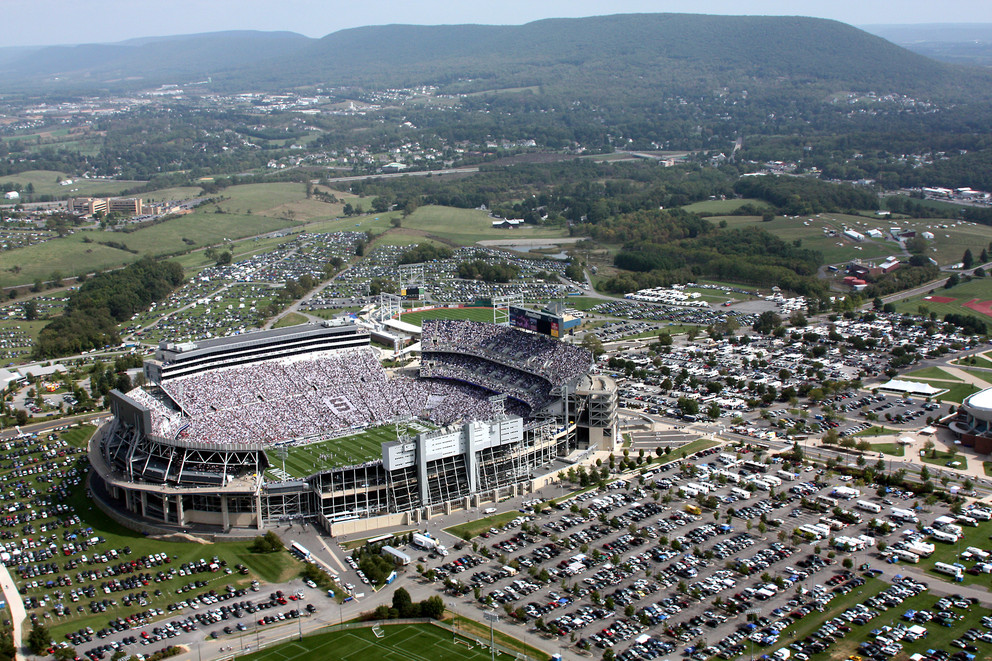 UNIVERSITY PARK, Pa. -- Dave Jones loves sunshine, blue skies and autumn air — especially on football Saturdays at Penn State.
These three ingredients not only help set the stage for the Nittany Lions to defeat the opposing team, but they're also the perfect blend of environmental conditions for the emergency medical technicians (EMTs) helping the sick and wounded at Beaver Stadium, according to Jones, the director of University Ambulance Services (UAS).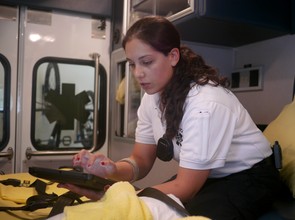 "Our data shows that 45 degrees Fahrenheit is the ideal temperature for game day. Anything above or below, and the emergency calls and texts for heat- or cold-related symptoms really start rolling in," Jones said. "Rain, nighttime and big rivalry games also dramatically increase the number of patients we treat from about four people on an average non-football day to up to 120 at the busiest game."
But when the stakes are this high, the EMTs don't place their faith in good weather.
Instead, they've focused on incorporating technology — online medical charts, apps and an ambulance-and-staff scheduling system — into their collection of stethoscopes, defibrillators, and other gear to boost the efficiency and quality of emergency medical services (EMS) on campus.
"When I started here in the '90s we had Rolodexes, paper records for everything, and used the radio to talk to dispatchers and crew members in the ambulance — there wasn't even a fax machine. But as the number of events started picking up, especially with only three full-time staff members, we realized we needed new technology to be able to keep up with everything," Jones said. "There has been such a shift — now I use FaceTime to talk to the crew in the ambulances on iPads, and my filing cabinets are empty, since most information is now stored in the cloud."
Founded as a senior class gift in 1956, UAS is the oldest and one of the largest collegiate ambulance services in the nation, each year answering about 1,200 calls and staffing 600 such events as the Special Olympics, club sports, Color Run, concerts at the Bryce Jordan Center, and other campus events.
But from September to November, the crew is focused on the roughly 107,000 fans in their care Saturdays at Beaver Stadium.
Attending football games as a fan is one thing, but getting the behind-the-scenes EMS experience is something entirely different, according to Abby Renko, a Penn State senior who works up to 14-hour shifts (sometimes overnight) as a campus EMT.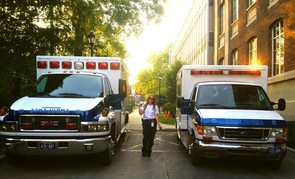 For an 8 p.m. football game, for example, Renko's day starts 12 hours earlier when she arrives at the stadium to begin her bike patrol through the tailgate. Renko says she helps treat people of all ages for such ailments as cardiac arrest, trouble breathing, frostbite, dehydration, allergic reactions and other traumatic injuries. During her first-ever call as a volunteer EMT on campus, Renko helped a paramedic save a marathon runner's life.
After that experience, she says she was hooked.
"The type of emergency medicine I want to practice is trauma. I like quickly assessing, stabilizing, and then sending a patient on his or her way," said Renko, who wants to work in emergency medicine, possibly as a trauma surgeon, after medical school. "I can only describe it as an intense, weirdly awesome, but scary feeling when my adrenaline is rushing and my training kicks in and I know what to do in the moment. Looking back an hour later, I sometimes can't believe it happened."
While bike patrolling continues outside Beaver Stadium during the game, inside, pairs of EMTs and paramedics (who, unlike EMTs, are certified to monitor heart rhythm, start IVs and administer many types of medication) are stationed in north, south, east and west quadrants of the stadium waiting for radio calls to come in from an EMS dispatcher. Along with a police and fire dispatcher, the EMS dispatcher fields 911 calls and texts, and alerts the closest ushers and emergency medical personnel about where to find patients in need (who can sometimes be difficult to spot in the throngs of blue- and white-clad fans).
After patients are assessed and stabilized, they're either transported to an EMS room in the stadium that is staffed by doctors and nurses from the Penn State Milton S. Hershey Medical Center, taken to the hospital in ambulances, or released back to the game.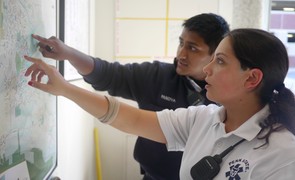 But even if patients are released, the work doesn't stop for the EMTs. The downtime gives them an opportunity to upload their patients' charts.
Though UAS recently began using a new e-charting system to reduce paper, track data, and make it easier to store and transmit information about patients, Renko says in high-pressure situations she prefers quickly jotting down notes — patient symptoms, medications and treatments — in a notepad she keeps in her pocket. Since her first priority is caring for patients, she does her online charting in between calls on her iPhone or an iPad in the ambulance.
In addition to providing hospitals with information about patients' conditions and care, the online charting system also tracks the number of emergency calls UAS receives in a given time period, medical reasons for the calls, and the amount and types of supplies used. Jones uses this data to make decisions about restocking supplies on each of Penn State's three ambulances and scheduling and hiring employees.
Like many of her peers in UAS, Renko enrolled in Kinesiology 403 — the University's semester-long EMT training course — as a first-year student to prepare for Pennsylvania's official EMT certification exam and to get clinical experience prior to medical school.
Jones says even though the students are new on the job he feels confident putting them out on the street — and in the stadium.
"Our EMTs do a great job in these stressful situations. The adversity they go through together is bonding, and they end up becoming very high-functioning teams," Jones said. "We teach them all the technical skills they need to be excellent EMTs."
And the students are helping Jones embrace tech and the benefits it brings to their industry.
This semester, UAS is trying a new online scheduling system for keeping track of work schedules, assigning ambulances and employees to events, and switching shifts. Students have also been adding educational apps about hazardous material protocols and prescription drug reactions to the iPads in the ambulances to have on-hand during calls.
"It's so important to stay up on training, develop new skills, and think about what you'd do in certain situations," Renko said. "When — not if — you get in a situation you've never encountered before, you'll be much more adept at applying classroom knowledge in a practical setting. But, every patient is different, and it's not always cut and dry, so instinct plays a really big role, too."
Jones believes his students have that instinct.
"We see patients in their most vulnerable moments and they put their trust in us," he said. "I've worked in the EMS industry for years and my favorite part so far has been working with the students at Penn State. They're curious, kind and can think. They've got great things going and they're going to do a lot of good in their lives. I'm already seeing it."