SACEMS celebrates first EMS week, activities set to begin Nov. 12
By Mallory Schell
The Saint Anselm Crier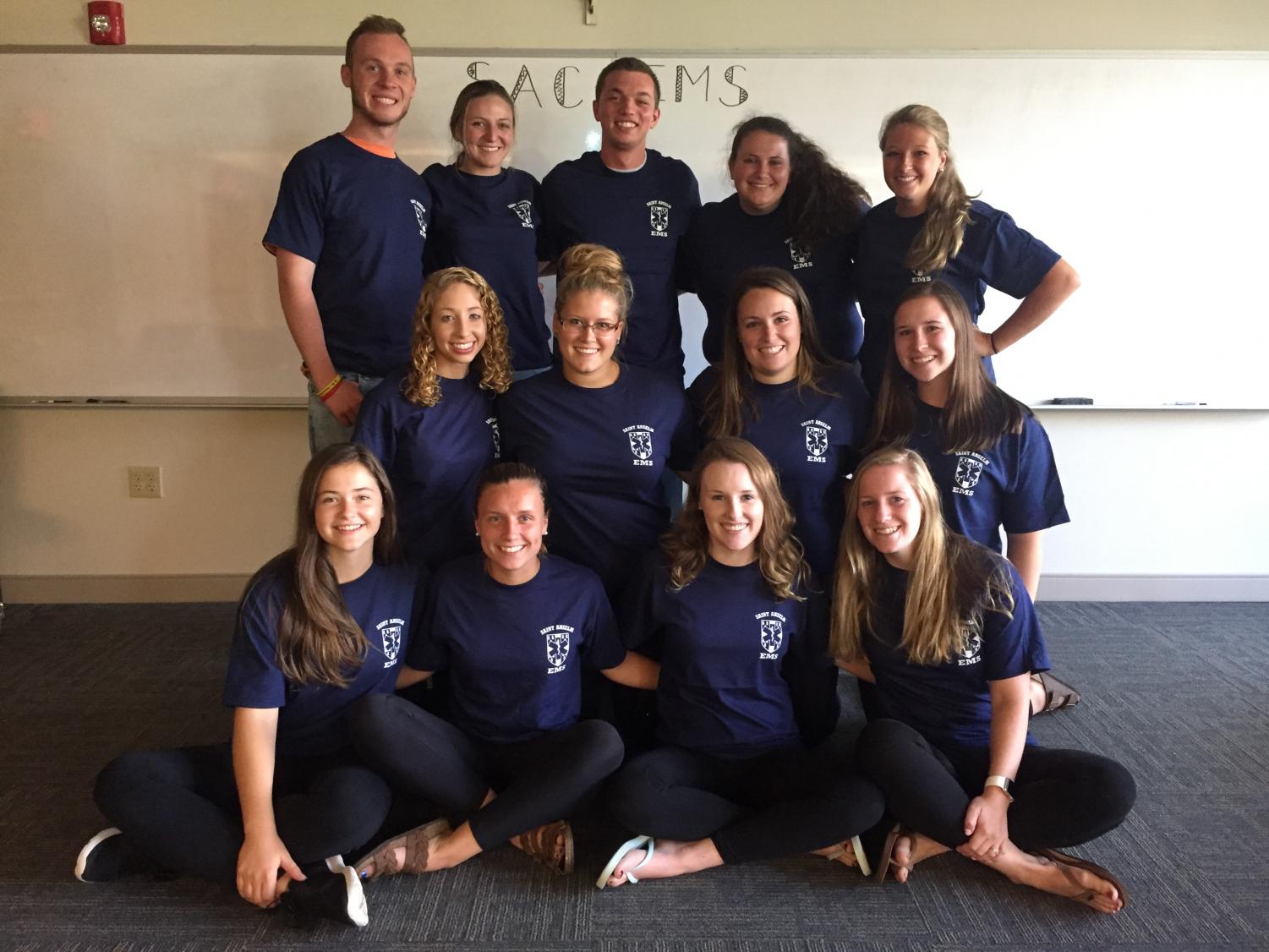 The Saint Anselm College Emergency Medical Services (SACEMS) Rescue Team has been serving our community since 1991 with a mission to provide immediate, emergency medical care to all persons who may be in need of medical assistance while they are present on the college premises. Also, to assist Health Services and Campus Security while promoting health and well being on the campus.
Rob DiLuzio established what was originally named the "Saint Anselm College Rescue Team" in 1991 as a freshman studying Natural Science. He was an experienced EMT who worked at his parent's rescue service in Keene, New Hampshire. The team started with just two members and donated medical equipment. Since then, the team has grown to become an asset to the Saint Anselm College community by providing emergency medical care, educating the campus on health issues and offering first aid for major campus events.
SACEMS is a group of volunteer students, all of whom are Nationally Registered Emergency Medical Technicians (NREMTs) and licensed in the State of New Hampshire. As professional healthcare providers, they act in an official capacity under the Health Insurance Portability and Accountability Act (HIPAA), which means all patient contact and information in confidential. SACEMS also maintains a close relationship with the Goffstown Fire Department who acts as the primary transporting EMS agency for Saint Anselm College.
SACEMS is committed to providing the best patient care possible in a confidential and professional manner.
Today, SACEMS falls under the direction of College Health Services as well as Campus Safety and Security. Advanced Registered Nurse Practitioner in Health Services, Lauren Marr, and Director of Campus Safety and Security, Don Davidson, are the advisors to the Rescue Team. Both are instrumental to the everyday operation of the team, as well as its growth.
The team has 3 on-duty EMTs every night. If someone on campus calls 911 during the hours of 6 p.m. to 6 a.m., those members of the team respond and supply primary care. The SACEMS Rescue Team also does standby events, where SACEMS presence is requested at events such as sports games, alumni weekend and political events. SAC EMS is looking forward to providing medical services and walking as a team at the annual Sister Pauline Relay for Life. For the academic year of 2017-2018, SACEMS responded to a total of 39 911 activations, resulting in a total of 22 transports and 17 refusals.
Historically, there have been a higher number of transports. However, in 2017 the team worked closely with Health Services in implementing a protocol change involving transporting Saint Anselm students under 21 who have consumed alcohol but are deemed medically safe to stay on campus. After much discussion between Health Services, Residential Life, the Dean of Students Office, and SACEMS, a Sober Advocate Policy was put in place. If SACEMS and Goffstown FD agree a patient is safe to stay on campus, a sober friend who is 18 or older must take responsibility for that student and sign an agreement that states signs and symptoms to look for that would require the friend to get further help. Residential Life signs that agreement and continues to check up on the student during their rounds. This Sober Advocate Policy is better for the community because it frees up resources, like allowing ambulances to return to service.
A recent area of advancement for SACEMS was being granted a response vehicle. SACEMS now drives a red 2013 Dodge Caravan to calls, which transports all our equipment bags, AED, backboards, and collars. We are looking forward to getting the van designed and appropriately identified this year. If you see SACEMS driving around please be respectful as they may be responding to an emergency. However, not every on-duty SACEMS can use the van at once, so they appreciate the respect shown for EMT parking spots as they are essential in helping them respond quickly to 911 emergencies on campus. The team would like to ask that you please leave "no overnight" spots open because while it is not marked as an EMT spot, there are several EMTs who use those spots while on active duty.
Being apart of SACEMS is a defining part of my experience here on the hilltop. My team is some of my closest friends, I couldn't choose a better group of students to run calls alongside. We are extremely fortunate to be supported by the incredible providers from Goffstown, and our special community here at Saint Anselm College. EMS has given me the opportunity to supplement my nursing education as well as explore my personal goals, grow as a healthcare provider, and demonstrate leadership.
The success of this team wouldn't be possible without the dedication and heart demonstrated by each member. The team would like to thank you, the Dean of Students office, and Maura Marshall for the continuous support and guidance.
If you are interested in becoming an EMT there is a class offered during the spring semester in Bedford by NHCPR. We work closely with the instructor, Chris Malley, and he generously offers a 20% discount to students using the code "SAC2019". For any more questions please email rescueteam@anslem.edu.
On Sept. 2 of this year, we held our annual training day dedicated to reviewing medical assessments, trauma protocols, and campus logistics such as building names, AED locations, and college policies. We continue our education throughout the year. The Team has weekly meetings, with educational hands-on trainings involving airway management, CPR, splinting, burn management, mental health, practiced mock calls, and more. Additionally, Goffstown FD generously invites our team to their monthly trainings.
In October several members went to a local middle school to help facilitate a "firefighter day challenge" where kids learned about emergency medical services. The kids also had an opportunity to participate in an obstacle course that included putting out fires with fire extinguishers, dragging dummies across a field, and use ladders and fire hoses – all while in full gear. Even though we are a college campus EMT service it is important for our team to volunteer because it allows us to give back to Goffstown and it builds community.
Every February we have the privilege of attending the annual National Collegiate Emergency Medical Services Foundation (NCEMSF) conference to attend seminars and trainings about bleeding control, sexual assault, drugs and alcohol management, chest trauma, pediatric emergencies, and many more. This year we will be sending 10 members to Pennsylvania in February to represent our team and college.
We are also excited to be hosting our first ever EMS WEEK Nov. 12-17. This is an opportunity for the team to be more active on campus and participate in some amazing trainings. Here is our tentative schedule:
Monday, Nov. 12: Car Wreck Training in South Lot
Tuesday, Nov. 13: "Hands on CPR" and "Stop the Bleed" training in the student center with Lieutenant Ben Moffet. There will also be a blood drive in the Carr Center.
Wednesday, Nov. 14: Free hand sanitizers in Davison Hall
Thursday, Nov. 15: Ambulance Tour and Mock Transport Call
Friday, Nov. 16: "Who Cares for Caregivers?" presentation
Saturday, Nov. 17: A helicopter will be landing on campus for Medflight helicopter training
Originally published at https://criernewsroom.com/news/2018/11/12/sacems-celebrates-first-ems-week-activities-set-to-begin-nov-12/