Student-Led Stony Brook Volunteer Ambulance Corps Receives National Honor
Press Release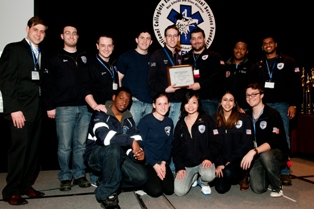 STONY BROOK, NY, February 26, 2013 – The Stony Brook Volunteer Ambulance Corps (SBVAC), a 90-member all-volunteer student-led emergency response unit, was honored as the Collegiate EMS Organization of the Year for 2012-2013 at the 20th Annual National Collegiate EMS Foundation (NCEMSF) conference held in Washington, DC, from February 22-24, 2013. SBVAC was selected from more than 100 collegiate EMS organizations across the nation.
Founded in 1970 by a small group of university students, SBVAC is a New York State-certified ambulance corps that has grown into a collegiate EMS agency that provides one of the highest standards of emergency response care in the state. SBVAC primarily serves the Stony Brook University campus and is regularly utilized as an EMS resource for the surrounding communities. SBVAC services an average daily population in excess of 30,000 people, including more than 8,000 campus residents. They responded to nearly 1,300 calls last year.
"We're very excited about the award," said Frankie Rivera, SBVAC President, and a Stony Brook University senior double-majoring in sociology and women's studies. "This award is timely and well deserved for our members who have answered numerous calls throughout very challenging times this past fall and winter," he said, referencing Superstorm Sandy and Winterstorm Nemo, two severe weather events that have pounded the region. "It's great for SBVAC and the campus community, as national recognition helps to get our name out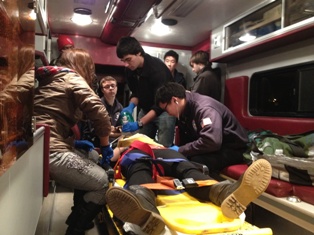 The Stony Brook University Volunteer Ambulance Corps conducts a training in a mock call scenario, which includes responding to a scene, treatment and transportation to the hospital.
to the EMS world on a larger scale."
Former SBVAC Chief (2000-02) and Stony Brook alumnus ('02) Joshua Moskovitz, MD, MPH, was also recognized at the NCEMSF conference receiving the President George J. Koenig Jr., DO, Service Award. Dr. Moskovitz is currently an Emergency Medicine physician at North Shore University Hospital.
Previously, SBVAC received the "Striving for Excellence" Award at the 2001 NCEMSF annual conference; the Suffolk County EMS Agency of the Year Award (2002); the New York State EMS Agency of the Year Award (2003) by the New York State Department of Health's Bureau of Emergency Services; and a first-place finish at the 2011 NCEMSF Advanced Life Support Skills Competition.
About the Stony Brook Volunteer Ambulance Corps (SBVAC)
SBVAC employs the services of approximately 90 dedicated volunteers, three operational ambulances and one ALS (Advanced Life Support) responder. SBVAC provides mutual aid to neighboring Fire and EMS services and is certified by Suffolk County to perform emergency response care up to an Advanced Life Support level covering interventions such as the administration of medications through IVs and endotracheal intubation by Critical Care and Paramedic level trained EMTs.
About the National Collegiate Emergency Medical Services Foundation (NCEMSF)
The National Collegiate Emergency Medical Services Foundation's (NCEMSF) purpose is to support, promote, and advocate for emergency medical services (EMS) on college and university campuses. The Foundation is committed to the advancement of existing response groups and assisting in the development of new response groups. The Foundation provides a forum for the exchange of ideas of campus-based emergency response issues. To these ends, the Foundation is committed to scholarship, research and consultancy activities and to creating safer and healthier environments on college and university campuses.