SU Ambulance named EMS Agency of the Year
By Edward Byrnes
Syracuse University Ambulance (SUA) has been named Emergency Medical Services (EMS) Agency of the Year by the New York State EMS Council. The annual award will be presented to SUA at the 2004 Vital Signs Conference to be held Oct. 29-31 at the Buffalo Convention Center in Buffalo, N.Y.
Chosen from a wide array of New York State certified volunteer and career EMS agencies, including fire departments, police departments, hospital emergency departments, EMS councils, dispatch organizations and first responder units, as well as a field of 1,127 ambulance services statewide, SUA was recognized as a model of excellence in EMS for its consistency and exemplary performance when providing pre-hospital emergency medical care.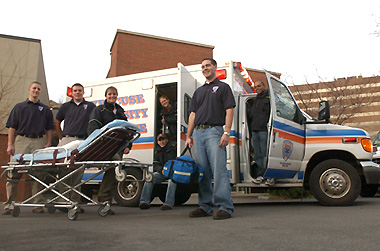 "The award to the Syracuse University Ambulance Service is particularly impressive because it is a busy volunteer, student-operated service whose level of quality has been recognized as exemplary, first by the Regional EMS Council locally and now by an EMS committee representing the entire state," says Edward G. Wronski, director of the New York State Department of Health's Bureau of Emergency Medical Services. "Congratulations to the dedicated and committed students who volunteer their time?and special thanks should be given to the support of the University in maintaining this ambulance service for the benefit of all the students, faculty and guests it serves."
Heather Will, SUA's EMS supervisor and also a paramedic, credits not only SUA's current crew of dedicated students, but also all of the members, managers, directors and supervisors who have passed through the SUA doors in the last 30 years.
"I was very excited to learn that the students received this award. They have always put a lot of pride and hard work into the organization while managing to effectively balance their coursework at the same time. SUA has worked very hard to bring the service to the level of professionalism that is expected by all EMS agencies, and we appreciate all of the support and encouragement we have received from the University," says Will.
SUA, a division of SU Health Services, has more than 60 student volunteers, several student supervisors and a full-time EMS manager. Last year, SUA added a new 2003 Road Rescue ambulance to its fleet, which also includes a Braun ambulance and basic life support (BLS) "fly car." It also possesses an advanced life support Medical Support Unit trailer for critical, multiple-casualty incidents. The service averages about 1,250 calls per year and is ready to respond 24 hours a day, seven days a week on the SU and SUNY College of Environmental Science and Forestry campuses. SUA services are free to students and are supported by student health fees. The service, which began in 1974, is celebrating its 30th anniversary this year.