UDECU Volunteers Celebrate 25th Year
The Review Vol. 128, No. 10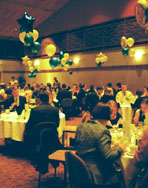 THE REVIEW / Lindsay Ware
The UDECU, founded in 1976, held its 25th anniversary banquet at Clayton Hall
BY CARLY DEGEORGE
Staff Reporter
The University of Delaware Emergency Care Unit had meager beginnings — 20 members and a refurbished 1970 Ford Econoline as its makeshift ambulance.
Twenty-five years later, UDECU has more than 50 members and a 1999 Horton Model 364 Type III vehicle.
Approximately 90 students and alumni attended UDECU's twenty-fifth anniversary banquet at Clayton Hall Saturday night.
The idea for UDECU originated in 1976 with alumnus Kevin O'Neill.
He said his roommate was an epileptic and once suffered a seizure in a campus dining hall.
Upset with the inadequate care his roommate received in addition to knowledge of the student-run ambulance system at DePauw University, in Greencastle, Ind., O'Neill said his visions of UDECU were under way.
He met Jack Lynn, campus security investigator, who became the organization's only adviser in its 25-year history.
John Brook, director of security in 1976, predicted failure for the group because its student members would run it
Alumni Brian Mahany and William Chalker said the organization encountered growing pains in its first years resulting from a lack of supplies and equipment.
"We were held together by a wing and a prayer," Chalker said.
Rick Bell, UDECU coordinator, said in August 2000 an agreement between the on-campus organization and Aetna Hose, Hook and Ladder Company in August 2000 generated a larger volume of calls to UDECU.
He said UDECU agreed to answer off-campus calls in the event that Aetna is busy or unable to attend to a situation.
Just this year, the UDECU has received 327 calls for both on- and off-campus situations. In the last month, there were at least 101 calls.
UDECU's membership has grown since its inception. Bell said. Currently there are approximately 50 undergraduate volunteers.
The organization's mission includes assurance of high quality emergency care for everyone as well as what O'Neill calls the organization's "driving force," the education of members on emergency medical care.
UDECU has its ambulance at every football and basketball game and also dispatches standby volunteers by the construction on the North Mall.
The group has already spoken at the English Language Institute and Lambda Chi Alpha fraternity. Bell said. In the future, members would like to also instruct Resident Assistants and other campus workers in CPR.
"[UDECU is a] valuable asset to the campus as well as the community," he said.
Saturday night's banquet renewed feelings of nostalgia for many attendees.
UDECU honored Lynn for his hard work and dedication following receipt of a national award in 1999.
Lynn said being UDECU's adviser is an adventure, and the members echo his sentiments.
Senior Jill Siegfried, in her fourth year with UDECU, said her experience has allowed her to open her eyes and broaden her horizons.
"This is one of the best volunteer experiences I've had," she said.
Alumnae Donna Curran and Karen Moore said they have been close friends since their days on the UDECU squad.
Curran said she started out as a political science major, but working with UDECU influenced her change to a major in nursing.
"These friendships really do last a lifetime," she said.