Emergency care founder recognized as national adviser of the year
UpDate
Emergency care founder recognized as national adviser of the year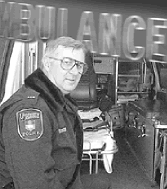 Jack Lynn of the University of Delaware Emergency Care Unit (UDECU) was honored as Adviser of the Year at the sixth annual conference of the National Collegiate Emergency Medical Services Foundation (NCEMSF), held earlier this year in Syracuse, N.Y. Ten members from UD attended the conference.
Lynn was a founder of UDECU in 1976 and has been active with the group ever since. In the speech honoring him, George Koenig Jr., president of NCEMSF, told how Lynn spent three weeks in his driveway converting a food service van into an ambulance in 1977.
One of the oldest campus emergency medical services groups in the country–and run by student volunteers since its founding 23 years ago–UDECU was among the top seven schools receiving "Striving for Excellence in Campus Emergency Medical Services" recognition.
UDECU takes "great pride in being recognized as one of the top seven campus groups in the United States," according to coordinator Chris Johnson. Criteria included self-evaluation of the group's educational standards, quality assurance, insurance information, availability to cover the area 24 hours a day, campus and community involvement and the effectiveness of the command structure.
---