URI honors fallen alumnus as it opens first permanent home for emergency medical services
Press Release
URI honors fallen alumnus as it opens first permanent home for emergency medical services Sept. 9 program marks contributions of students, alumni who have volunteered during last 21 years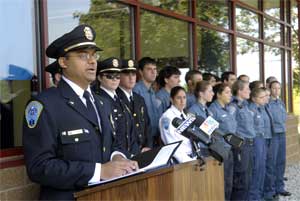 KINGSTON, R.I. – September 9, 2006 – The University of Rhode Island marked the 21st anniversary of its volunteer emergency medical services today by opening a new 5,000-square-foot headquarters on Plains Road.
Twenty-five current members of the service, most of whom are URI students, alumni who served as medics when they were on campus and local public safety officials joined URI President Robert L. Carothers, Vice President of Administration Robert Weygand, Vice President of Student Affairs Thomas Dougan and Health Services Director Chad Henderson for the ceremony. Former student commanders Ryan Duffy, now the assistant chief of the Charlestown Ambulance Service, and Navy Lt. Peter Pascucci, URI class of 2000, an attorney in the Judge Advocate General's office in Norfolk Va., also joined the proceedings.
They participated in ceremonies dedicating the multi-purpose/training room to the late Brian Jackson, a member of the Dallas Police Department who was killed in the line of duty last fall. He served URI EMS as vice commander from 1995 to 1999 when he graduated from the University. A former resident of Charlestown, he was a member of that town's ambulance service before taking the job in Dallas.
"At the University, one of our most important goals is to cultivate in our students a commitment to service," Carothers said. "It is important because we know that they will become leaders in their communities, their states and their country," Carothers said. "Today, we are pleased to open this new facility and to honor the current EMS members, alumni and certainly the late Brian Jackson. Our student volunteers offer their expertise and care in the most difficult of circumstances to strangers who may never have a chance to thank them. Today, we have a chance to thank them for their service and honor that work with a new facility of which we can all be proud."
The new EMS building is part of a combined $2.3 million project that also provided a 4,000-square-foot addition and upgrades to the adjacent Central Receiving building. The cost for the EMS facility was $1.4 million.
The EMS facility has a garage for the ambulance, bunkrooms to accommodate members serving overnight shifts, and a kitchen area.
"This building reflects our experiences during our 21-year history, and it addresses both the needs of the community and our members," said EMS Chief Shad Ahmed, of Warwick, who is earning his master's degree in business administration. "To have a place to store our equipment and a site to train on demand will be a great asset for us. For most of our existence we have been housed in the basement of Adams (residence) Hall, which meant that our ambulance was always outside. Adams is also in a congested area of campus. Our new location provides easy access to all areas."
"The garage was greatly needed," said Capt. Jonathan Miller, of Springfield, Mass., a URI student majoring in marine affairs, who has been managing the ambulance operations. "This will significantly reduce the wear and tear the ambulance gets simply from the elements. It's in great shape, but the weather drastically reduces service life."
"This is the first time that we will have our own garage and headquarters since the service was established in 1985," said Henderson, who as Health Services director oversees EMS Services. "The student volunteers performed admirably during the last two decades without their own headquarters and at times being shifted to temporary locations. Their service has been exemplary both on and off campus.
"As we open this building, it is important to remember September 11, 2001 and emergency services workers in general who have given their lives in service of others," Henderson said. "We are honored to have Brian's mother and father from Middletown, John and Valerie Jackson, here with us today."
Henderson said he is also grateful for the assistance of URI alumnus Bobby Hart, former commander of the service, who during his time in Kingston did much of the planning for the new building. He is now a police officer in Enfield, Conn.
The new permanent facility includes pre-engineered building components in combination with traditional building methods for an innovative and cost effective design. Vision 3 Architects of Providence was the project designer and Maron Construction of Providence was the general contractor.
Those attending the ceremonies were offered discounted tickets to the URI football team's home opener against Merrimack. URI dedicated the game to emergency services workers, and a display of equipment from various departments was open to the public.
URI EMS is the primary medical emergency provider to the University and is part of Rhode Island's mutual aid system. It responds to more than 500 calls each year. URI-EMS is a licensed state EMS service, and staffs a transport ambulance 24 hours a day, seven days a week. In addition, the organization provides medical staff and assistance upon request for more than 200 special events throughout the year and also supports the University's primary mission of academics and education by sponsoring courses in pre-hospital emergency medicine. It has provided medical services for the Rhode Island National Guard's Leapfest and the South County Youth Soccer Club's Seaside Classic, which brings thousands of children and their families to URI each summer.
The origins of ambulance services at URI date to the 1970s when URI Campus Police and Security cross-trained officers as emergency medical technicians. The police discontinued the service in 1984, and a group of students proposed a volunteer, student-run service. In 1985, the student-run service was established.
Pictured above: URI Emergency Medical Services Chief Chief Shad Ahmed, of Warwick, who is earning his master's degree in business administration, speaks during the ribbon-cutting for the new EMS building on Plains Road. URI News Bureau photo by Michael Salerno photography.