EMS celebrates opening of new HQ
By: Annie-Laurie Hogan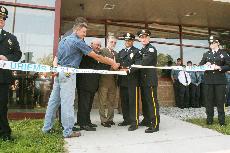 The University of Rhode Island celebrated the grand opening of its new Emergency Medical Services Headquarters Saturday, marking the 21st anniversary of the student-based ambulance service. URI EMS plans to move into the 5,000 square-foot building in October.
"We look forward to continuing the work that [EMS volunteers] do to make the community a safer place," URI President Robert L. Carothers said.
The $1.4 million facility located on Plains Road features a multi-purpose room, kitchenette, bunkroom, lounge, garage and lockers for EMS student volunteers and personnel. The garage will allow the URI EMS ambulance to be kept inside for the first time since the organization was established.
"Having the ambulance inside will keep down the maintenance costs," junior and EMS volunteer Erik Robbins said. "Because it's inside and sheltered from the elements, it will last longer."
The multi-purpose room will be used as a classroom, departmental training and meeting area. The room was dedicated to the late Brian Jackson who served as a URI EMS vice commander for four years. Jackson, a URI alumnus and officer for the Dallas Police Department, was killed in the line of duty last November.
"[Jackson's] focus was to serve and protect others," former URI EMS Cmdr. Peter Pascussi said at the ceremony. "He would often fill shifts that others would not … He always put the safety and the care of the URI community first."
Jackson and URI EMS members were also honored at URI's football home opener against Merrimack College.
While the headquarters remains unfurnished, URI EMS is planning to replace its old furniture with new items, Capt. Shad Ahmed said.
The organization's primary source of funding is URI Health Services.
URI EMS student volunteers were happy to open their new headquarters and said that it was a large improvement from their previous residences.
"We've definitely been overdue for it," senior and EMS volunteer Gwen Kantor said. "It's nice to have everything in our own building ... it's a place to call our own."
EMS members previously attended CPR classes in White Hall and held meetings in the Memorial Union. "We can do things much more effectively here," sophomore and EMS volunteer Jessica Martin said.
URI EMS is the emergency ambulance service for the URI Kingston campus. The organization responds to about 500 calls per year and provides medical assistance during special events. EMS student volunteers work at least six daytime hours per week. Many of them also work during the evening shift, from 7:00 p.m. to 7:00 a.m. Students interested in volunteering can contact EMS at 874-5261 or uriems@etal.uri.edu.
Media Credit: Elissa Weinstein URI EMS Cmdr. Shad Ahmed, Director of Health Services Chad Henderson, and President of URI Robert L. Carothers open the new Emergency Medical Services building located on Plains Road Saturday.
© Copyright 2008 The Good 5 Cent Cigar