UVM Rescue Adds New Ambulance
Press Release
By Jon C. Reidel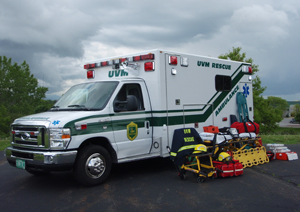 UVM Rescue, one of 15 Advanced Life Support-certified student-run rescue squads in the nation, acquired a new state-of-the art ambulance this onth.
UVM Rescue celebrated the addition of a new ambulance on June 5 at its headquarters on East Avenue. The vehicle is expected to enhance the student-run organization's ability to handle the more than 1,300 calls it responds to annually as provider of emergency medical care for the UVM campus, Fletcher Allen helipad, and the University Health Center.
The $130,000 Type III Osage ambulance with a 2009 E-450 chassis was paid for with fees generated from the the past two years of service as the primary back-up for Burlington, South Burlington, Shelburne, Winooski and Richmond as part of a mutual aid plan under the Vermont EMS District 3 Response Matrix. UVM Rescue, which sold one of its older ambulances to UVM's Physical Plant, also works in conjunction with three local helicopters (North Country Life Flight, Life Net of New York, and the Dartmouth Hitchcock Air Response Team (DHART).
Features of the new vehicle include dual-tone siren system, rumbler siren package, heated fluid warmer, expanded box, and walk-through access. These enhancements will allow students, who work on a 24-hour, 365-day-a-year schedule, to better deal with requests ranging in severity from ill students, to life-threatening emergencies that include poisonings, multi-trauma, respiratory difficulties, and cardiac arrests.
"It's a huge commitment and the training is rigorous, but if you really like it you'll find a way to make it work," said Nolan Hurley, crew chief, driver and EMT-Intermediate. "I've learned a lot about the job itself, but also about how organizational systems work and the politics around them by going to regional meetings and dealing with local governments. It's been a valuable experience in a number of ways."
Founded in 1972, UVM Rescue crew chiefs like Hurley and Naomi Fener are certified at the EMT-Intermediate level, which allows them to administer medications, initiate IV therapy, and place advanced airways. This level builds on the EMT-Basic curriculum, which includes assisting with certain medications, splinting, and taking vital signs.
"Because students are only here at UVM for four years they have to go through an accelerated and rigorous training process to advance them though the system," said Dan Manz, a 1978 UVM Rescue alum and the current state director of Emergency Medical Services. "They are well trained and have the support of alums who still live in the area."