Vermont Tech First Responders Attend National Conference
By Vermont Technical College News Service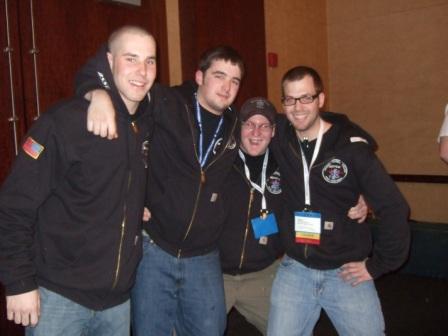 Eleven Vermont Tech First Responders attended the National Collegiate Emergency Medical Services Foundation (NCEMSF) conference February 25- 27 at the Loews Philadelphia Hotel. A total of 875 students from 92 colleges and universities across the U.S. and Canada were also in attendance, marking the largest gathering of campus EMS providers and organizations to date.
NCEMSF is a non-profit organization committed to scholarship, research and consultancy activities and to creating safer, healthier environments on college and university campuses throughout North America.
"This past weekend, four members of the Vermont Tech squad had the opportunity to compete against 92 other colleges and universities from across the nation in an EMS skills competition," said team member and Fire Science major Jordan White. "We were assessed on teamwork, communication, professionalism, and our ability to handle three different simulated emergency scenarios. In the end, we placed among the top six teams in the nation."
According to Dr. George Koenig, NCEMSF President, "Beyond providing for the acquisition of medical knowledge, campus-based EMS allows student participants to develop certain life skills including leadership, team work, communication, and decision making, while simultaneously positively impacting other people's lives. These crucial skills serve participants well no matter what careers they ultimately choose."
This year's conference program included over 110 lectures, roundtable discussions, expert panels and skills labs packed into two and half days of amazing programming ranging from the treatment and management of various traumatic and medical emergencies to EMS research to leadership development and strategic planning for the collegiate EMS agency.