Drexel University Emergency Medical Services Named Drexel Student Organization of the Year
Press Release - May 17, 2013
On May 16th, Drexel EMS was awarded Student Organization of the Year at Drexel's Annual Student Life Award Ceremony. Student Organization of the Year is the most prestigious award to be given or a campus organization. This was Drexel EMS's first time being nominated for this award since our start up in 2010. Four members were invited to a sit down dinner and to accept the award.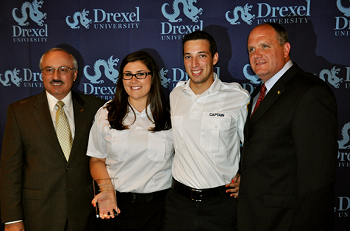 In the photo from right to left: Domenic Ceccanecchio, Vice President Public Safety; Allison Brophy, Chief Drexel EMS; Eric Williams, Captain Drexel EMS; and David Ruth, Dean of Students.
Following the awards ceremony, on May 17th, Drexel EMS hosted their first annual campus wide spring bbq. Information about that event can be found in a separate local news article.