UC EMS Team Gives Demos This Friday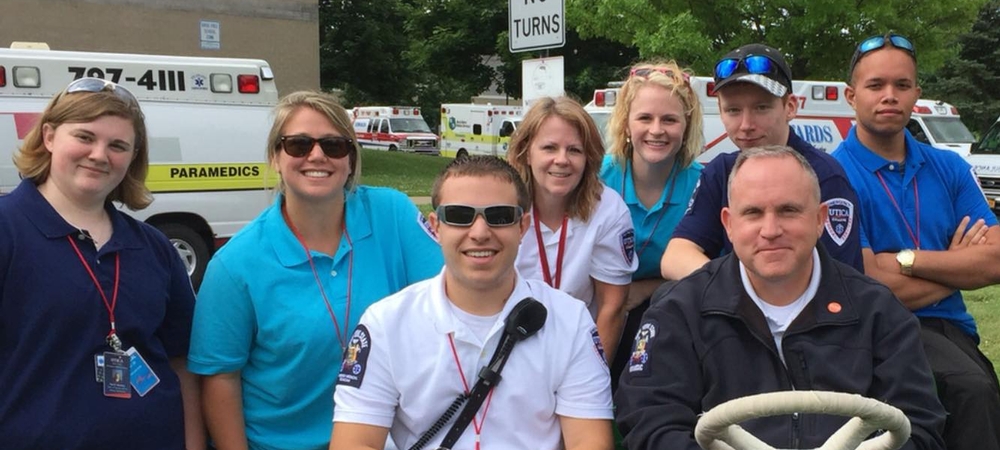 By: Marissa Filletti '17, PR Intern
Utica College News
UC Students Now Respond to Campus Emergencies
Utica College's Emergency Medical Services organization, UCEMS, began responding to on-campus emergencies along with campus safety in February. Now, they're celebrating National Collegiate EMS week for the first time and they've packed Friday, Nov. 18 with events to promote health and safety on campus.
Friday's events will span the hours of 9 a.m. to 4 p.m. and take place in the Ellen Knower Clarke Lounge in Strebel Student Center. The health fair will be open all day and members of the club along with EMTs from Kunkel Ambulance will administer blood pressure screenings, glucose checks and general health screenings.
Throughout the day, members of UCEMS will hold trainings and attendees can actually obtain certification in administering Narcan Naloxone, an opiate antidote that treats overdoses in emergency situations. Attendees must be present for the entire half hour session to get certified. Narcan trainings will be offered from 10 to 10:30 a.m. and again from 1 to 1:30 p.m. CPR trainings will be offered from 10:30 to 11 a.m. and again from 1:30 to 2 p.m.; attendees can sign up to attend a course to obtain CPR certification.
At 11 a.m., Lawrence Aaronson, Harold T. Clark Jr. Professor Emeritus of Microbiology, will give a virology presentation on protecting yourself from the flu.
From 12:30 to 2:30 p.m., representatives from Oneida County DWI will present on alcohol abuse, while getting students to participate in their interactive "Mario Kart Challenge" and try-out their infamous "Marijuana Goggles."
UCEMS is a sub organization of the Utica College Emergency Medical Alliance, UCEMA. Collectively, the alliance works to provide emergency medical training, awareness and education to students on campus. The organization currently has more than 60 members, 15 of which are now certified EMTs.
For more information about the UCEMA or National Collegiate EMS week events, contact Anthony Scalise at (315) 404-0573 or amscalis@utica.edu.
Photo via UCEMS on Facebook
Originally posted at: http://www.utica.edu/news/stories/uc-ems-team-gives-demos-this-friday/