Student Volunteer EMS Agency Responds to Flood Disaster
By Jennifer Larson, AEMT-CC
JEMS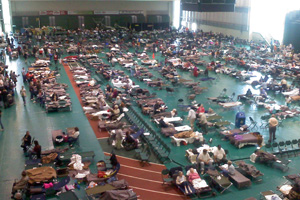 Sept. 7 seemed like just another rainy day in Binghamton—typical for a late summer afternoon in the Southern Tier Region of New York. The usual flood warnings were in effect because the Susquehanna River, which flows through the heart of Binghamton, rises and falls with the changing seasons. As the afternoon went on and the weather worsened, however, Tropical Storm Lee proved to be far from a typical summer storm. With last resort flood walls built to 25 feet and the river expected to rise a record two feet above that, it became clear that a flood emergency was imminent.
Preparation
In 2006, a major flood struck rural parts of Binghamton. Binghamton University opened the doors to the Events Center—its main athletics arena and concert venue—and sheltered hundreds of displaced people. Harpur's Ferry Ambulance (HF), Binghamton University's student-run 9-1-1 ambulance agency, was responsible for providing emergency medical care for approximately 2,000 evacuees. The Events Center was opened as a community shelter once again as the 2011 floor worsened.
At 4:30 p.m., Campus Emergency Manager Dave Hubeny sent a text message alert asking the incident management team personnel to report to the Events Center to staff the command post. Shortly after, the campus was notified that the Events Center was open as an evacuee shelter.
HF immediately mobilized available personnel. HF Chief Robbie Cohen and Operations Director Pavel Antonov reported to the Command Post for a briefing and to review the incident action plan. HF would once again take on the role of providing emergency medical care and transport to the evacuees. They set up a treatment room to provide care to patients and moved all HF operations to the Events Center.
Flood Response
HF isn't a traditional EMS agency. Staffed and led by Binghamton University students, it responds to more than 800 calls a year, both on campus and as mutual aid throughout Broome County. It runs two ALS ambulances and two ALS fly cars, making it one of 10 collegiate volunteer EMS agencies to offer this high standard of care.
HF staff comprises full-time Binghamton University students, who also work as part-time employees and volunteers at other EMS agencies. The members of HF provided 24-hour care for 11 days at the Events Center Shelter while covering the usual campus calls.
Fifty members of HF rose to the occasion by providing exemplary care to patients unique to a college campus. A large portion of the evacuees suffered from chronic illnesses or disabilities that aren't widely seen in the university population. Thanks to frequent agency trainings and conferences, responding providers were able to treat these conditions with confidence and skill.
HF treated patients of all ages with such minor medical issues as mental-health crises, seizures, strokes and one cardiac arrest. Deputy Director Alex Nello and Captain Kate Olofson coordinated 12-person crews for six- or 12-hour shifts to staff ambulances and provide care to the Events Center population.
Intercollegiate Assistance
As the incident developed and no end was readily in sight, the need for downtime and relief for HF personnel grew significantly. Chief Robbie Cohen contacted the leadership of State University of New York (SUNY) Cortland Campus Rescue and SUNY Oneonta Emergency Squad to supplement HF and their state-assigned mutual aid crews from Guilfoyle Ambulance and SeniorCare EMS.
Not only did they provide skillful care, but their assistance also permitted HF providers some well-deserved time off. This is the first time in HF history, per mutual-aid policy, that intercollegiate assistance was requested.
Training
The trainings and standard operating procedures of HF enabled the initial crew to effectively respond. Binghamton University routinely invites performers and athletic teams to campus for concerts and tournaments, many of which generate a high number of calls. HF plays the integral role in providing medical care, operating a treatment room and establishing EMS command. Working these events provided the training and practice that was essential to the success of the Events Center shelter, as the incident command system has become a familiar part of HF event response.
The volunteerism, preparation and professionalism of HF providers and collaborators allowed for the smooth operations of the Events Center treatment room. During this 11-day event, the responding providers rendered care to 257 patients. Accounting for one-third of the usual, annual call volume, this was a major incident. Thanks to the cooperation among HF, Binghamton University, the Red Cross, the Broome County Department of Health and Federal Emergency Management Agency, the shelter was quickly established, and safely and efficiently maintained. The operation closed smoothly.
Conclusion
The Flood of 2011 was handled extraordinarily well because of the skill and dedication of the HF membership, the support of local volunteers and the trainings and experience with ICS at Binghamton University events. The response to this flood served as a testament to the capacity for compassion and professionalism of HF and the Greater Binghamton community as a whole. As the City of Binghamton and the surrounding area rebuilds, the members of HF continue their dedication to providing exemplary medical care to Binghamton University and the Southern Tier of New York.