Dartmouth EMS named unit of the year in New Hampshire
Dartmouth's student-run Emergency Medical Service was named the New Hampshire's EMS unit of the year by Concord-area medical services company Bound Tree Medical yesterday for its positive impact at the College.
The award recognizes EMS units that have improved their community through acts such as patient care, their relationship with the public, education programs, prevention-oriented initiatives or other related activities. Dartmouth EMS was selected as the award's recipient by the merit committee, a body organized by the state's Division of Fire Standards and Training and Emergency Medical Services.
"It's definitely great to be able to give back to campus in this way because we're providing a great service to anyone who needs our help, whether that's through certifying people in first aid and CPR or responding to their emergencies," Dartmouth EMS executive director Bill Crockatt '16 said. "One of our mottos is 'people helping people,' which is really simple but I really think it does speak to what our organization does — we're just a bunch of students trying to look out for our fellow peers."
Dartmouth EMS is hoping to expand to 24-hour services over the next few years, increase standby coverage at events and secure its funding, Crockatt said.
"It really speaks to the dedication of our members and all the hard work everyone for the past decade has put into Dartmouth EMS and growing it and getting it to what it is today," he said.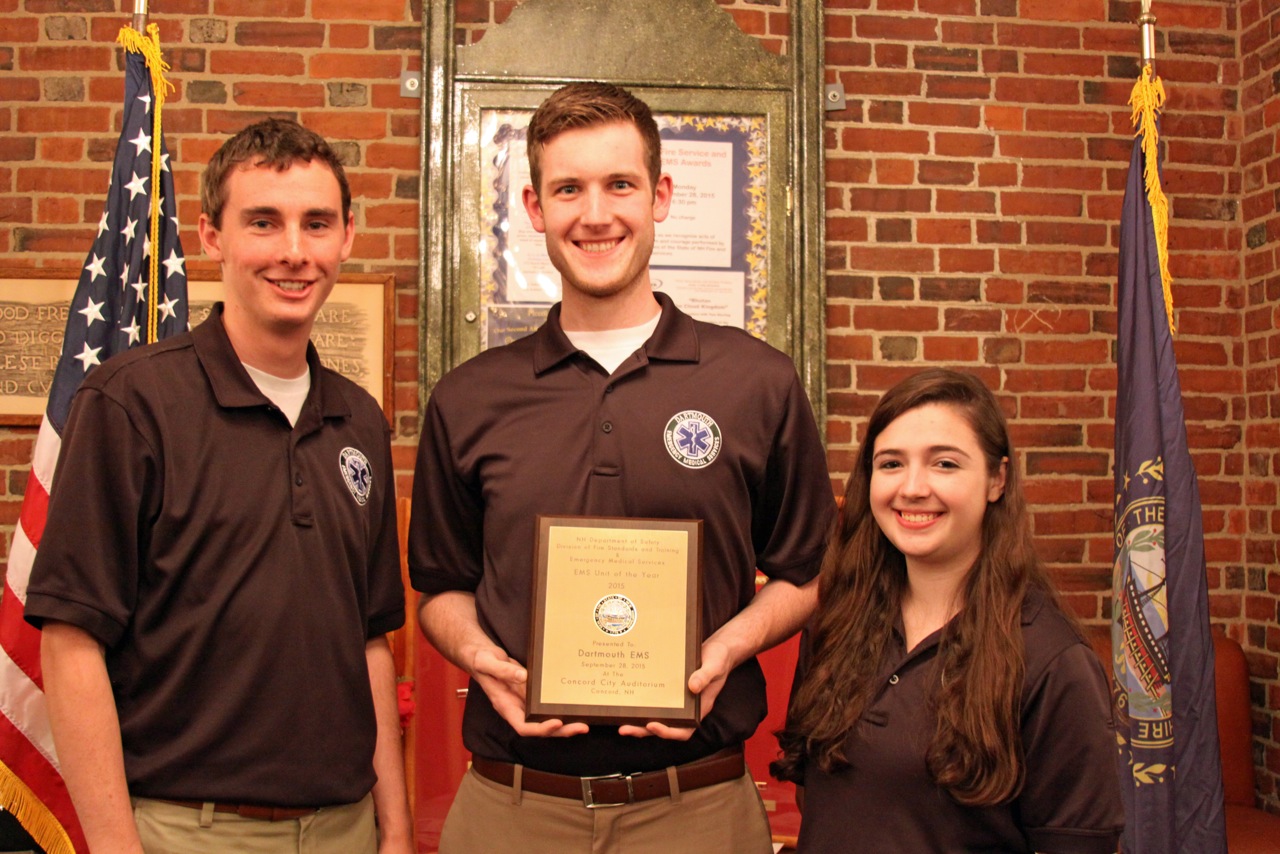 Dartmouth EMS leaders received the award in person yesterday at the Concord City Auditorium.
Dartmouth EMS training director Ian Speers '17 said that everyone involved is "thrilled" about receiving the award.
"We don't do it for the recognition, but it's nice when something like this happens since everyone in the organization works incredibly hard," he said.
Dartmouth EMS is a student-run volunteer organization that was founded in 1991 and has provided BLS — Basic Life Support — coverage for the College and the surrounding Hanover community since 2010, Crockatt said.
The organization works to improve the existing first response system in Hanover by working with both the Hanover Fire Department and Safety and Security to provide emergency services for the College, Crockatt said.
Dartmouth EMS provides free coverage to Dartmouth students five nights per week and many afternoons, Crockatt said. Additionally, they provide stand-by coverage for many campus events, he said.
In the past year, Dartmouth EMS responded to over 210 medical and traumatic injuries, totaling over 1,500 hours of volunteer coverage to the campus, according to the New Hampshire Department of Safety. Dartmouth EMS' average response time is three minutes, according to EMS documents provided by Crockatt.
Dartmouth EMS has a close-knit community amongst its members, operations director Courtney Hargreaves '16 said.
"It's been a great support network, and it's really helped me grow as a leader," she said.
In addition to on-call BLS coverage, Dartmouth EMS became a certified American Heart Association Training organization this year, which allows the organization to teach CPR, automated external defibrillator and first aid classes to students, faculty, College employees and community members. In the past year, Dartmouth EMS set a new campus record by certifying nearly 500 people in their classes, according to information provided by Crockatt. The organization also offers specialty classes for its members and manages Dartmouth's automated external defibrillators.
"Dartmouth EMS acts as a safety net for staff, faculty and students," Speers said. "It's a great way to expose students to EMS and hands-on medicine, which is often hard to get at a college level."
Dartmouth EMS can expand training opportunities on campus for the College community, Speers said.
"We're here to help out students when they're in situations that they need medical help or any kind of support from fellow students," Hargreaves said. "It was really exciting to be recognized for all the hard work that we do, [and] I think everyone in the organization felt the same way. We didn't expect this and it was a great surprise."
Past recipients of the EMS Unit of the Year award include Waterville Valley Public Safety, the Bedford Fire Department, Stewart's Ambulance Service and Linwood Ambulance Service.
Article originally found at http://thedartmouth.com/2015/09/29/dartmouth-ems-named-unit-of-the-year-in-new-hampshire/. Photo provided by Dartmouth EMS.