DeSales EMS Named Collegiate EMS Organization of the Year
The DeSales Emergency Medical Service (EMS) was named the 2009 – 2010 National Collegiate EMS Organization of the Year. The group was recognized at the National Collegiate EMS Foundation Conference held in Baltimore, Maryland, earlier this semester. More than 800 students from about 90 Universities were represented at the conference. This is the second consecutive time the DeSales EMS was recognized at the national event. read more >>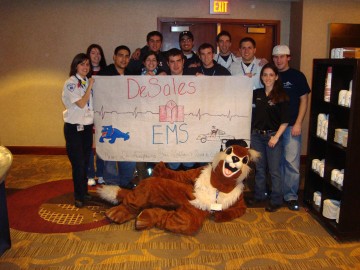 Back Row: Christopher Barron '13, Andrew Sanabria '13, Mark Ubbens '11 Front Row: Megan Hinkle '12, Amelia Kalucki '11, Gustavo Rodriguez '13, Antonella DiMatteo '10, Christopher Petersen '12, Kevin Wasson '13, Ryan Hay '11, James Kish '09, RN, BSN, Victoria Storey '13 Middle: NCEMSF Professor Squirrel Mascot
Established in 2007, the DeSales EMS has attended the national conference only twice and has won recognition each time. In addition to this year's honor as Collegiate EMS Organization of the Year, DeSales EMS received the New Group Initiative Award at last year's national event.
DeSales joins a distinguished group of previous winners of the Organization of the Year Award, including Columbia University (2009), Tulane University (2008), University of Massachusetts – Lowell (2007), Binghamton University (2006), SUNY Geneseo (2005), and Penn State (2004).
As Collegiate EMS Organization of the Year, the DeSales EMS will be permanently represented on the Hall of Fame page of the National Collegiate EMS Foundation web site at http://www.ncemsf.org/about/hall-of-fame.ems.
Ryan Hay, of Bethlehem, Pa., a DeSales junior majoring in political science, serves as the EMS director of DeSales, and Mark Ubbens, a DeSales junior and physician assistant major from Brodheadsville, Pa., is captain. Hay and Ubbens are co-founders of the DeSales EMS.
Also serving on the DeSales team were Megan Hinkle '12, James Kish, RN, BSN '09 (alumnus member), Christopher Petersen '12, Christopher Barron '13, Kevin Wasson '13, Victoria Storey '13, Andrew Sanabria '13, Gustavo Rodriquez '13, Antonella DiMatteo '10, and Amelia Kalucki '11.
During the conference, Hay presented a lecture on College Campus Emergency Planning and Management.
The DeSales EMS also competed in the Basic Life Support Skills Competition and ranked 6th in the nation in the Physio-Control BLS Skills Competition, up from 8th in last year's event. This year, 34 schools compete. The top six teams, in order from first to sixth, were McMaster University, Brown University, Cornell University, Texas A & M, Penn State University and DeSales University. The DeSales team included Ubbens, Hay, Hinkle and Sanabria.
In the fall of 2007, Hay and Ubbens approached then DeSales Police Chief Vincent Berkes about starting a volunteer student EMS. The DeSales EMS was recognized and certified by the Commonwealth of Pennsylvania as a "BLS Quick Response Service" in May 2008, just eight months after its inception.
The DeSales EMS is under the medical direction of LVHN – Cedar Crest Emergency Department and Medical Command Physician William Zajdel, D.O.
As a Pennsylvania Department of Health certified Quick Response Service, DeSales EMS, is completely run by DeSales students, who are State Certified Emergency Medical Technicians-Basic (EMT-B's).
For more information, please contact Ryan Hay, '11, director of DeSales EMS, at 610-282-1100, ext. 1911, or at rh3138@desales.edu.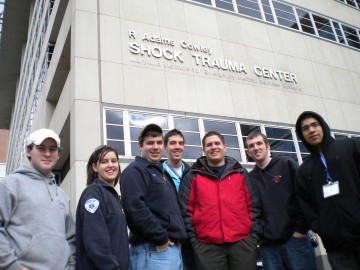 James Kish '09, RN, BSN; Megan Hinkle '12; Christopher Petersen '12; Mark Ubbens '11; Ryan Hay '11; Kevin Wasson '13; Gustavo Rodriguez '13