By Molly Geisinger
Hamilton News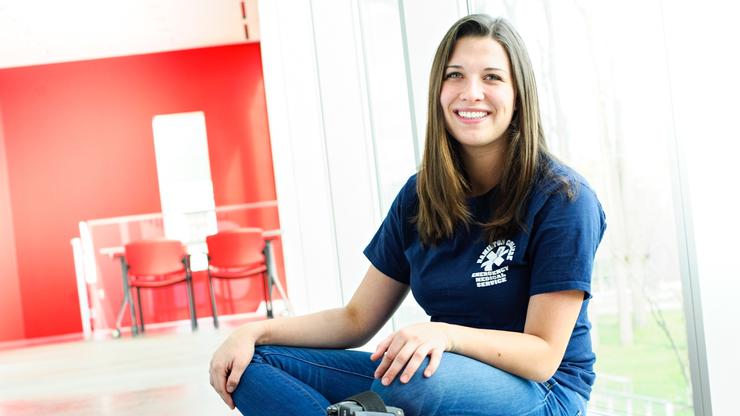 Every November, the College community salutes the Hamilton College Emergency Medical Service (HCEMS). HCEMS is a New York State Emergency Medical Service agency that responds to medical emergencies on campus. The service is available to all College community members 24-hours-a-day, seven-days-a-week when classes are in session. The program is made up of student volunteers who all are New York State certified EMTs.
In addition to certification, being a member requires being on-call 30-40 hours each week, taking weekly review quizzes, and attending mandatory review sessions every three weeks.
In anticipation of the week dedicated to the service of HCEMS Rachel Gramlich '18 answered a few questions about her work on the team.
Q: How long have you been involved with HCEMS?
A: I've been an EMT since the beginning of my sophomore year.
Q: Why were you interested in joining HCEMS? Did you know you wanted to be an EMT when you came to Hamilton?
A: I really wanted to make a difference on campus and help people and I thought this would do that. I'm still interested in medicine, even though I'm no longer pre-med, so I really do enjoy that part of it.
Q: Do you have to be interested in science or medicine to join?
A: Definitely not, there have been a bunch of EMTs before who have had no connection to science. It just matters if you're passionate about [being an EMT] and want to help people, but it's certainly not a prerequisite.
Q: What are your plans after graduation?
A: I hope to be a data analyst after graduation doing some sort of data science. It doesn't really matter to me what field I do that in. I still am interested in the healthcare field, [so] I think that would be interesting to me.
Q: What is the most challenging part of job?
A: I think it's hard to balance everything you have to keep in mind when you're making a decision, especially because a lot of the decisions we make are under high pressure situations and circumstances. (You) kind of have to keep a bunch of different aspects in mind as well as consult your team members.
Q: What has surprised you?
A: I don't think I expected that I would become such good friends with everyone that I work with, but it really has become a great community on campus for me. Everyone I work with is so nice and it's helpful, I think, that we're friends with each other while we're working.
Q: What is your favorite part of being an EMT?
A: I like that I get to help people and that I get to work with my friends all the time and be part of an important service here on campus.
Q: What advice would you give to the other current EMTs?
A: I'd say make sure to be the best role model that you can be and try to set a good example for the new kids coming in since you'll be the veterans next year.
Q: What advice would you give to prospective EMTs?
A: Just be yourself, but show that you know what you're doing. Being a good team player is the most important thing for anyone. [Also], respect your teammates and respect their decisions and opinions, but, of course, offer your own opinions and insights.
The other members of HCEMS include seniors Matthew Bleich, Jack Goodman, Kaia Miller, Catherine McCutcheon, Travis Roeder, Katherine Spano, and Abigail Tulchinsky.
Junior HCEMS members are Kevin Alcala, Henry (Jack) Gumina, Zachary Perez, Julia Tsvyakh, Emily (Emma) Weller, and Hua (Hannah) Yep.
Sophomores on the squad are Devin Hebert, Mark Lutz, Elizabeth Mathis, Kendall Meer, Patrick Morelli, Melissa Mouritsen, Serena Persaud, Haley Raphael, and Micaela Tobin.