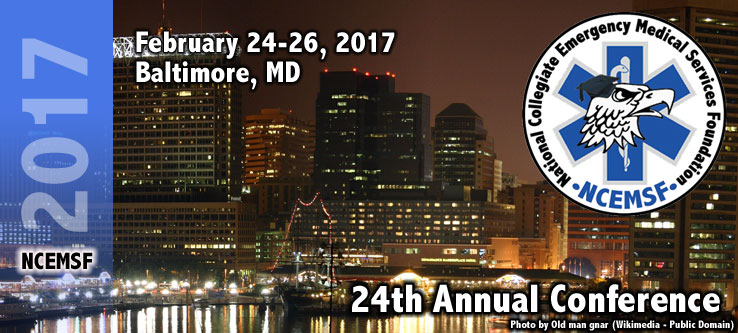 The 24th Annual Conference will be held in Baltimore, MD on February 24-26, 2017.
Conference Schedule
Speaker Abstract Submission (Must be logged in!)
Vomacka Student Speaker Competition


The deadline for this program has passed.

Physio-Control EMS Skills Classic
Conference Finance
Pre-Conference Classes

NCEMSF is excited to offer extended training sessions in select topics during the day on Friday, February 24th. These classes require separate registration and a separate $25 fee.
You can only sign up for a pre-Conference class once your Conference registration is paid in full.
Tokens cannot be used towards pre-Conference classes, and pre-Conference classes are non-refundable.

Conference Scholarship Program/New Group Initiative

The deadline for this program has passed.
Conference Logistics
Sponsors: For details on becoming a Conference sponsor, visit the sponsors section of the website. For more information, email sponsor@ncemsf.org.
Questions: Email confinfo@ncemsf.org.
Future Conference Dates and Locations:
2018: February 23-25 - Philadelphia, PA